Richard Branson, the master of promotion, launched Virgin Money in the United States with much fanfare as expected and wearing a "Go Fund Yourself" T-Shirt. CNN honored Sir Richard with a photo gallery, a news article, and a video. As the WSJ recently mentioned, Virgin Money was originally Circle Lending. I was surprised by the data provided by the Boston Globe on the size of the family loans originated through Virgin Money.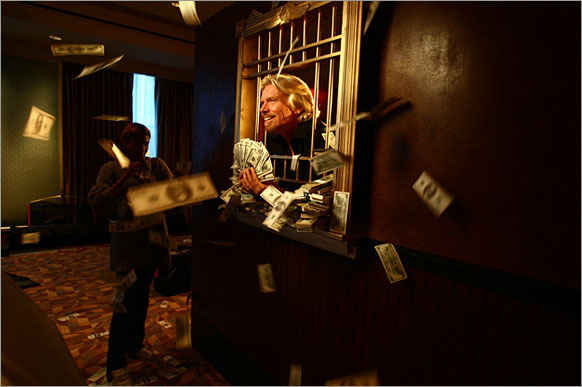 Branson promotes the site to potential family borrowers by mentioning that the default rate drops from 14% to 5% when the lender-borrower relationship i formalized through a third party such as Virgin Money. Borrowers receive money at a lower interest rate and can build credit through the loan since payment information is passed to credit agencies.
Dr. Giridhar Kamath is a Virgin Money customer who needed capital for his startup business – an emergency medical practice in Albany, N.Y. His $150,000 loan at 10% annual interest over five years (a competing bank had offered a 17% rate) doesn't require monthly payments until the practice starts generating income.

At first the lender – his father – didn't think an intermediary was necessary, but Dr. Kamath insisted o/n legitimizing the arrangement. "Beyond providing proper documentation, Virgin Money allows you to build a credit history by transmitting your repayment information to a credit agency."
Virgin Money seems entirely focused on Family (or close friend) lending while Prosper.com and Lending Club allow Person to Person lending between strangers. Therefore, I do not see myself using this service in the near future, but knowing Richard Branson and his bold moves, Virgin Money will not be a P2P lending company to ignore.